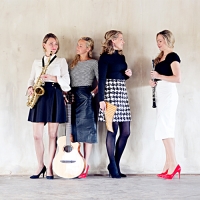 Filiae
www.filiae.nl/



genres: praise/worship, (southern) gospel,

Biography by NEEMA - Vuurbaak
Four sisters, each with their own character, but also share a strong family bond. The daughters of the family De Wit also share a love for music. Thus arose Filiae ("daughters"); a vocal group that translates the mutual relations to music.
Filiae brings a varied repertoire of hymns and classics to contemporary gospel and close harmony with covers and original songs.
Albums