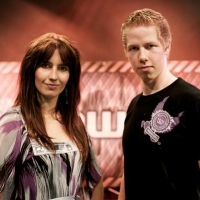 G-Powered
www.aboveall.nl



genres: dance,

Biography by Above All Records
Meet G-Powered, a Christian vocal trance group out of Finland! Don't forget to learn more about this group and their music by visiting their website. Through their website you can learn how to hook up with them on facebook, myspace, twitter & all of those fun sites. Enjoy!

Real Names: Kimmo Korpela & Miia Rautkoski
Band/DJ/Artist Name: G-Powered
Genre of Music: Eurodance and Vocal Trance

How/Why You Became a Musician?
Miia: It has been my dream to became a real musician since very early childhood. I have sang pretty much through my whole life.
Kimmo: When I was young, I tried to find gospel eurodance everywhere, but I didn't find it very much. So I decided to begin to do it myself. I went to a piano school just for learning to make music.

Is There a Purpose/Vision to your music? Explain: Our vision is to do energetic and inspiring music with touching lyrics. We enjoy music of this genre and we share the same vision to do our best with our skills.

Best/Favorite Music-related Experience (doesn't have to be related to your music):
Miia: Rollerskate towards sunset at downhill and listen to dance music. It is something that really makes me feel good!
Kimmo: In the end of year 2007 I got a mail from international Machine Dance Game company and they wanted our song to their game. They have found us from MySpace. One of my favourite experiences is also our first concert in Maata Näkyvissä -festival main stage year 2008 for thousands of people.

What did you grow up listening to?
Miia: Well at early in my life I listened music my big sister used to listen, like Take that and Boyzone. I also sang with my mother who used to sing more religious songs with guitar. Afterwards I started to listen more dance music and music releated that genre.
Kimmo: I grow up listening a lot of finnish gospel pop and rock music my dad used to listen. I liked melodies of many gospel songs, but the music style of the songs didn't inspire me. I also listened many dance artists, but I didn't like their lyrics. First time I heard some dance music I wanted very much to move and dance and I realized that is my style. It affected straight to my heart – literally.

Your music sounds like (ie: other bands/DJs people might like): E-Type, Cascada, Armin Van Buuren etc.

Links to your music/Contact you: www.gpowered.com

Anything else you want my readers to know: If you are interested in making trance remixes for G-Powered, that would be great!
Albums